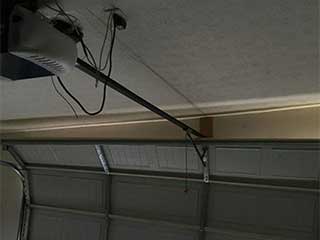 While you might try to shrug them off as slight inconveniences that you can live with, issues with your garage door can end up as major problems later on, especially when they're left unattended.
So when is it time to call someone?
Does Your Door Struggle To Open And Close?

If you find that it shakes roughly while it moves, or even seems to get stuck here and there, getting your system checked out would be a good idea. The problem is likely something to do with your garage door springs, which are the components in charge of doing all the "heavy lifting". They will inevitably wear down overtime, due to the accumulated toll of daily use, and can be very dangerous to handle without professional training. Aside from eventually rendering your door immobile, if a spring snaps it can whip around your garage and cause serious damage to yourself or your property.

Do The Remote Or Wall Pad Refuse To Work?

If you've already tried replacing the batteries, and everything else you can think has failed to work, then the problem is more than likely to do with the motor that's inside your garage door opener. This component is in charge of powering the entire operation, so you're kind of stuck without it.

Does The System Suddenly Go Into Reverse?

An awful grinding sound can be the sign of rusted or damaged components, and if you're not sure which parts are at fault, you could waste time and money trying to figure it out. But that's an easy fix. You just have them repaired or replaced as needed. However, if your door comes down, then suddenly starts to go back up, the issue may be that the system is being tricked into thinking it's closed. This can have something to do with the opener's settings. Since his component is quite complex, our technicians can handle it and save you the trouble.
Call our Garage Door Repair Laguna Woods team today! We're always happy to help every local homeowner with any issue they may be experiencing.