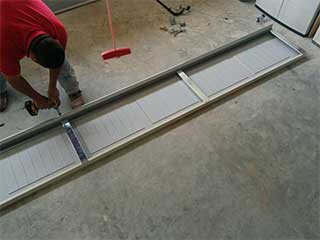 Impress everyone at the family get together!
There's always plenty of work to be done around the house to get it looking pristine for all the family and friends that that love to visit you at your home. Don't let all that effort go to waste by leaving the front of your home looking shabby and ruin that first impression! A surefire way to dazzle them is with a new, beautiful garage door. As one of the largest parts of what people see as they head up to your house, this one step can make all the difference.
Let the professionals take care of installing that new garage door.
While you're busy with sprucing up the interior of your home, our trained team can quickly take out your tired and old door, and install your perfect new one. If your door isn't put in by an expert, not only is it possible for it to malfunction, but it may also look horrible. That's the opposite of what you want! Make sure that your house gets the upgrade it deserves, and let our technicians ensure that it does.
Keep everyone safe!
The last thing anyone wants to deal with while trying to enjoy family time is an accident. If your garage door has endured years of use, it may be wearing out. This includes the sensors that make sure it stops before closing if someone is under it. It may also mean that your door won't shut properly, leaving your belongings out in the open. Save yourself from having to worry, and take care of it now rather than waiting for the worst to happen. A new door gives you the certainty that your family and possessions will all be secure and free from potential harm.
Need a new opener?
We can handle that too! Whatever model is best for your home, we can install it ASAP.
Get to it before your life gets even busier.
You have enough to do, let us help with doing what we do best! Call today, and set up a time that works best for your packed schedule. Our trusted team will be happy to assist you.
But wait, there's more! We also offer:
Roll up Garage Door Maintenance
Belt Drive Opener Installation
Torsion Spring Adjustment
Extension Spring Adjustment