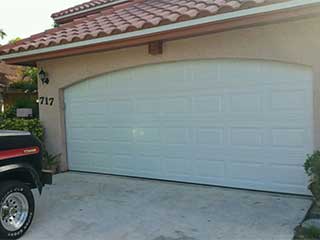 During a regular garage door maintenance appointment, our technicians will make sure every part of your door is functioning correctly. There are a few common problems that can hinder your system's performance, and our experts know exactly what they are, how to identify them, and, most importantly, how to fix them.
Examining the Opener
Your garage door opener consists of both mechanical and electrical components, which means it could suffer from a great variety of different issues. The best way to avoid the majority of them is to regularly make sure everything from the motor gears to the circuit board is in a good working condition. If we find something is less than perfect, we'll repair or replace the damaged component on the spot.
Checking The Tracks
Your garage door rollers use the tracks as, well, tracks. By that we mean that they run along them in order to facilitate the movement of your door in a steady and stable way. If the tracks are dirty, clogged with debris or have become dent due to some type of damage, then the door's motion will be negatively impacted. Our technicians can make sure your tracks stay in a good condition and repair them if they are misshapen.
Making Spring Adjustments
While it is normal for your garage door springs to need to be adjusted on a regular basis, this does not mean that it is a job safe for homeowners to complete on their own. Springs are dangerous, as they are in charge of supporting the weight of your door panels, and therefore they are under a lot of tension. Our experts know how to adjust them to keep your garage door operating the way that it should.
Schedule an Appointment Today
You can rely on our experts at Garage Door Repair Laguna Woods for all of your regular maintenance needs. Because we know what common problems to look for and how to quickly make necessary repairs, we can ensure that your garage door continues to work the way it is supposed to. Call us today!
You can also count on us for:
Genie Garage Door Openers
Garage Door Cable Replacement
Extension Spring Adjustment
Overhead Door Installation